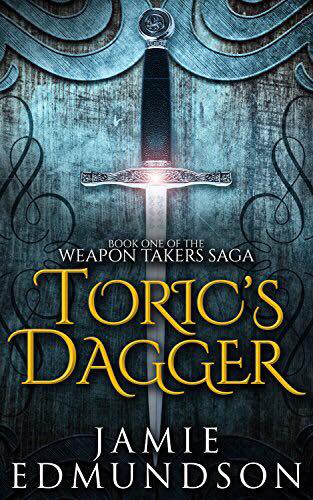 At what point did you decide you wanted to be a writer? Describe the journey that led to the publication of Toric's Dagger
Since my teen years if not before. I loved reading fantasy fiction and it was natural to want to emulate the writers I loved. I studied History at university and that reinforced and refined my interest in the genre. At that point I had a go at writing, but it went slowly, and I went into teaching to earn a living. It's very hard to put in a full day of teaching, come home with worksheets to write and marking to do, and then have the creative energy to write regularly. Nonetheless, I never gave up on the idea, and the first draft of Toric's Dagger slowly emerged.
When I had two young children it became EXTREMELY hard to do much writing and I kind of put things on hold at that point. In 2015 I left full time teaching, my kids were at school, and I determined to give myself a proper crack at it. At that point, in all honesty, I was a bit detached from the genre and the industry. I had been knocking around the idea of setting up my own business, while writing and reaching out to agents. It took me what seems now to have been a long time to realise that self-publishing was the best option, since it allows you to write and run your own business.
How was SPFBO for you? Talk a bit about the experience
I followed SPFBO 2016 with interest and so entered Toric's Dagger in the 2017 edition. This was before it had even been published, so I really was incredibly green at that point, but what an opportunity to have been given! What the competition really did for me was give me a push in meeting the online fantasy community, who have proven to be unbelievably friendly and generous.
At that point Toric's Dagger had zero reviews, so I had no real idea what kind of reaction it would get. I soon realised that the group I was in was pretty tough with some established names, but the amazing thing about the competition is that everyone comes in on an equal playing field. The blogger thought the book was good enough to give it a full read and a review, and I felt that was a good result for someone in my position. Beyond that, it starts to come down to personal taste.
What did you set out to accomplish in your Weapon Takers Saga? What did you hope readers would get out of the series.
I think writers write stuff that they would like to read. My objective was to write a great fantasy series that sits squarely in the epic fantasy genre but with enough in it to make it a unique read.
Worldbuilding is important to me, in that the setting needs to feel real enough for me to suspend my disbelief. The characters need to act and make decisions in a world that has a logic to it.
I wanted to write something with lots of characters, from multiple perspectives: men and women; powerful and without power; heroic, evil and in between.
I wanted there to be magic, that comes at a cost. I wanted it to remain mysterious, with no scientific explanation behind it.
I wanted a complex plot, but at the same time I wanted the books and the series to be relatively short, to feel fast-paced, and not get bogged down.
I wanted the characters to come ready-made: rather than a coming of age tale, these characters are adults each with their own beliefs, prejudices and values.
I wanted to explore themes of family, friendship, leadership and heroism.
Reviewers that have 'got' what I was aiming for have said it feels like a film or tv series – it's meant to be easy to read and visual.
Much of the series deals with the relationship between twin siblings Belwynn and Soren. Did you have any personal experience that went in to the creation of these great characters?
With so many characters, I felt like the series needed to have an emotional core and characters that stood at the centre of the story line. Belwynn and Soren provide that in terms of their relationship with each other and respective roles. Belwynn is neither a great warrior nor a great wizard and, while not 'ordinary', she gives the story some grounding. Soren does have magic powers and that helps the reader to understand how magic operates in this world.
In terms of personal experience, I think they appeared on the subconscious level. I grew up with a younger brother and sister and I am lucky that we all remain close and get on. I also have a daughter and son who are close in age. So sibling relationships have definitely played an important role in my life.
If you were going to describe the series for new readers how would you do so?
The series is called The Weapon Takers Saga and it has a quest style plot that develops over the series. In Book One, Belwynn and Soren are tasked with retrieving a stolen relic—Toric's Dagger. But they learn that an ancient enemy is threatening the people of Dalriya. Seven weapons of power must be found to defeat this enemy. But no-one seems to know what, or where, they are.
Who are some of your biggest literary inspirations?
This series is inspired by the fantasy novels I read when I was younger – The Lord of the Rings; The Dragonlance Chronicles; The Belgariad; Memory, Sorrow and Thorn.
What advice would you give to an aspiring writer?
Be brave enough to do your own thing, your own way. There is tons of advice out there, from writers saying how they do it. And that's worth listening to. But at the end of the day, you take what works for you and discard the rest. You need to learn how YOU are going to do it.
What are you working on now? What do you have planned once this series wraps up?
I have one more book of my current series to write. After that, I have so many ideas for a new series it is going to be hard to decide where to go. I would certainly like to go in a historical fiction direction eventually, perhaps an alternative history setting. I also have a character in my head demanding their own series. Watch this space!