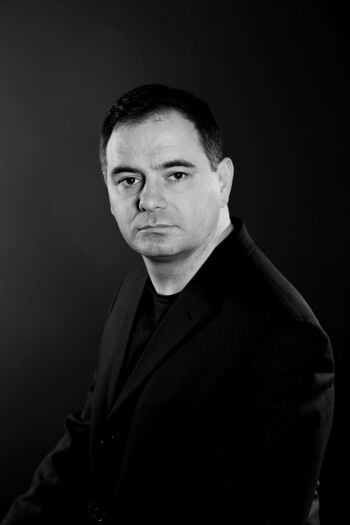 Good day and welcome to this episode of the Books and Authors Fantasy Podcast. I'm your host, podcaster and author of Fun Fantasy Reads, Jamie Davis. This podcast is exactly what the title says it is, a show focused on everything in fantasy books.
You may have noticed we changed the name of the podcast from the Fantasy Focus Podcast to the Books and Authors Fantasy Podcast. It came to our attention that people were having a hard time finding our show on the podcast directories so they couldn't subscribe to the show. All that popped up in the search for "Fantasy Focus" was sports fantasy league podcasts.
That wouldn't work so we opted to change the name to "Books and Authors Fantasy Podcast." We hope this helps you find and subscribe to the show so you don't miss any of the episodes.
Regardless of what we call it, this show will cover everything in fantasy books. From Epic Fantasy, Urban Fantasy, Sword and Sorcery, and everything in between, expect to find the best and brightest authors from all the various corners of the fantasy book world. Plus we'll add in a few other very special guests as well along the way.
As I still work on promoting my latest book,Cyber's Change in ebook, paperback, and audiobook formats, which came out a week ago, I'm digging in even more to the current writing project on my plate. This Urban Fantasy – Game Lit crossover novel is going to be a different look at both genres in many ways while keeping all the elements you're used to seeing.

I can't go into much more other than to say it's coming along well and I'm currently about halfway through the first draft process. For me that means I've got most of the meat on the bones of the story, but it still needs some fleshing out to bring the story to life in a way that's engaging for readers. I hope to have more to say on this project soon.

As always, if you're interested in more information on what I'm up to, check out my fan group on Facebook, Jamie's Fun Fantasy Readers and on my website and blog, JamieDavisBooks.com.

All right, time to get into this week's episode interview. I'm happy to bring you my chat with author Anthony Ryan. Anthony is the New York Times bestselling author of the Raven's Shadow epic fantasy novels as well as the Slab City Blues science fiction series.
He was born in Scotland in 1970 but spent much of his adult life living and working in London. After a long career in the British Civil Service, he took up writing full time after the success of his first novel Blood Song, Book One of the Raven's Shadow trilogy. He has a degree in history, and his interests include art, science and the unending quest for the perfect pint of real ale.

Check out my chat with Anthony here on the podcast. Here it is.
Podcast: Play in new window | Download