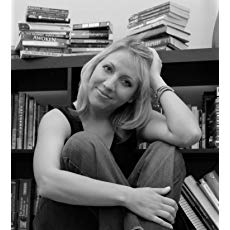 This is the Books and Authors Fantasy Podcast Episode 48 with Sarah Noffke.
Good day and welcome to this episode of the Books and Authors Fantasy Podcast. I'm your host, podcaster and author of Fun Fantasy Reads, Jamie Davis. This podcast is exactly what the title says it is, a show focused on everything in fantasy books.
This show will cover everything to do with fantasy books. From Epic Fantasy, Urban Fantasy, Sword and Sorcery, and everything in between, expect to find the best and brightest authors from all the various corners of the fantasy book world. Plus we'll add in a few other very special guests as well along the way.
First off, my update. I've spent the weekend getting a full week of marketing and social media take overs for the release of The Charm Runner, Book 1 of the Broken Throne series. The book is now live on Amazon and Kindle Unlimited and is already doing great. It's a story telling the tale of a smuggler of blackmarket magic in a world where magic is against the law. I urge you to check it out.
As always, if you're interested in more information on what I'm up to, check out my fan group on Facebook, Jamie's Fun Fantasy Readers and on my website and blog, JamieDavisBooks.com.
Alright, time to get into this week's episode interview. I am excited to be joined by my friend and author, Sarah Noffke. Sarah, an Amazon Best Seller, writes YA and NA science fiction, fantasy, paranormal and urban fantasy.
In addition to being an author, she is a mother, podcaster and professor. Noffke holds a Masters of Management and teaches college business/writing courses. Most of her students have no idea that she toils away her hours crafting fictional characters.
Noffke's books are top rated and best-sellers on Amazon and among my personal favorites, especially her Unstoppable Liv Beaufont series.
Visit Sarah Noffke's Facebook Author Page here.
Podcast: Play in new window | Download