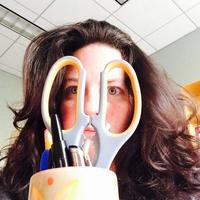 This is the Books and Authors Fantasy Podcast Episode 78 with Kendrai Meeks.
Good day and welcome to this episode of the Books and Authors Fantasy Podcast. I'm your host, podcaster and author of Fun Fantasy Reads, Jamie Davis. This podcast is exactly what the title says it is, a show focused on everything in fantasy books.
This show will cover everything to do with fantasy books. From Epic Fantasy, Urban Fantasy, Sword and Sorcery, and everything in between, expect to find the best and brightest authors from all the various corners of the fantasy book world. Plus we'll add in a few other very special guests as well along the way.
As always, let's start off today's episode with my own author update. I just got back from the awesome 20Books Conference in Las Vegas. I got to recharge my writing batteries with 1400 people just like me. It was awesome.
I am finished writing the first draft of book 2 in my Urban Fantasy series The Huntress Clan Saga. It's my NaNoWriMo, National Novel Writing Month project for this year, so that's completed. I'll start editing that soon and get it off to the Beta readers for some testing before the final rewrites for editing.
We're just a few weeks away from releasing book 1 in that series, Huntress Initiate. I'll make some announcements and do some live readings from it in my Fun Fantasy Readers Facebook group so come on by and join the group.
If you're interested in more information on what I'm up to, check out my fan group on Facebook, Jamie's Fun Fantasy Readers and on my website and blog, JamieDavisBooks.com.
On today's show we interview, Kendrai Meeks. Kendrai was deported from the American Midwest after graduating college, and held against her will since in California. She also really hates sarcasm. She first published in 2011, putting out a dozen romance and science fiction titles. In 2017, she decided to return to her first love, urban fantasy.
She is the founder of the Bay Area Allied Indie Authors group. She has also been a featured speaker on a number of conference and industry panels on topics ranging from Fanfiction, to Audiobooks, to Serialized Fiction. She enjoys twisting the extant into the exceptional, often basing her work on historical themes or legendary folk tales and mythology.
Check out my chat with Kendrai. And also make sure you get her books in the Red Hood Chronicles Series starting with Reluctant Hood. Don't forget to follow her over at her Kendrai Meeks Facebook Author Page.
Podcast: Play in new window | Download