This is the Books and Authors Fantasy Podcast Episode 89 with Sebastien de Castell.
Good day and welcome to this episode of the Books and Authors Fantasy Podcast. I'm your host, podcaster and author of Fun Fantasy Reads, Jamie Davis. This podcast is exactly what the title says it is, a show focused on everything in fantasy books.
This show will cover everything to do with fantasy books. From Epic Fantasy, Urban Fantasy, Sword and Sorcery, and everything in between, expect to find the best and brightest authors from all the various corners of the fantasy book world. Plus we'll add in a few other very special guests as well along the way.
To start off things this week, I'll begin with my author update. I'm prepping things to get ready for the release of Huntress Cadet, book 3 in the Huntress Clan Saga next week on Tuesday February 25. Check out my reader group on Facebook for a sneak peek at the new cover design before anyone else. If you haven't already started this awesome series, you can check it out with book one, Huntress Initiate, the first book in the Huntress Clan Saga, available from Amazon.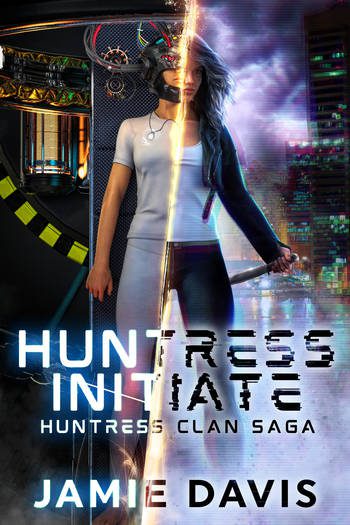 I also have just about wrapped up writing book 8 in the Extreme Medical Services series. It's going to be titled The Paramedic's Amazon. I hope you all will enjoy it. If you haven't already delved into this series, check out Book 1, Extreme Medical Services, available wherever you purchase ebooks.
You can check out more information on what I'm up to, including sneak peeks of upcoming covers, special giveaways, and more, by visiting my fan group on Facebook, Jamie's Fun Fantasy Readers and over at my website and blog, JamieDavisBooks.com. I look forward to hearing from you.
On today's show I interview Sebastien de Castell. Sebastien had just finished a degree in Archaeology when he started work on his first dig. Four hours later he realized how much he actually hated archaeology and left to pursue a very focused career as a musician, ombudsman, interaction designer, fight choreographer, teacher, project manager, actor, and product strategist. His only defence against the charge of unbridled dilettantism is that he genuinely likes doing these things and that, in one way or another, each of these fields plays a role in his writing.
Sebastien's acclaimed swashbuckling fantasy series, The Greatcoats, was shortlisted for both the 2014 Goodreads Choice Award for Best Fantasy. the Gemmell Morningstar Award for Best Debut, the Prix Imaginales for Best Foreign Work, and the John W. Campbell Award for Best New Writer. His YA fantasy series, Spellslinger, was nominated for the Carnegie Medal and is published in more than a dozen languages.
Sebastien lives in Vancouver, Canada with his lovely wife and two belligerent cats. You can reach him at www.decastell.com.
Check out my interview with Sebastien now and follow him on his Facebook Author Page.
Podcast: Play in new window | Download