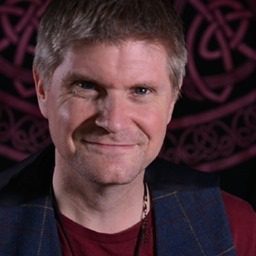 This is the Books and Authors Fantasy Podcast Episode 92 with Ken Boyter.
Good day and welcome to this episode of the Books and Authors Fantasy Podcast. I'm your host, podcaster and author of Fun Fantasy Reads, Jamie Davis. This podcast is exactly what the title says it is, a show focused on everything in fantasy books.
This show will cover everything to do with fantasy books. From Epic Fantasy, Urban Fantasy, Sword and Sorcery, and everything in between, expect to find the best and brightest authors from all the various corners of the fantasy book world. Plus we'll add in a few other very special guests as well along the way.
To start off things this week, I'll begin with my author update. I'm really excited about the release of Huntress Cadet, book 3 in the Huntress Clan Saga. I'm so excited that I've already started work on book 4, Huntress Scout. Lots of great twists already in the next book so get caught up on the first three so you're ready when the next one comes out in May.
Check out Huntress Initiate, the first book in the Huntress Clan Saga, or book 2, Huntress Apprentice. All three books are available from Amazon.
You can check out more information on what I'm up to, including sneak peeks of upcoming covers, special giveaways, and more, by visiting my fan group on Facebook, Jamie's Fun Fantasy Readers and over at my website and blog, JamieDavisBooks.com. I look forward to hearing from you.
On today's show I interview Ken Boyter. Ken loves stories and storytelling, especially fantasy. He writes stories to show we can learn more about real life and the nature of humanity through reading fantasy. He really enjoys world building and the ongoing process of creating his magical world of Edra.
As well as writing and storytelling, Ken is also an actor, artist, graphic designer, and medium. He has an English Literature degree from the University of Sussex and co-created and co-hosts The Bottled Imp YouTube channel.
Check out my interview with Ken right now.
Here's the link to his book The Legends of Grimous Ironblood.
Podcast: Play in new window | Download