This is the Books and Authors Fantasy Podcast Episode 110 with E.G. Bateman.
Good day and welcome to this episode of the Books and Authors Fantasy Podcast. I'm your host, podcaster and author of Fun Fantasy Reads, Jamie Davis. This podcast is exactly what the title says it is, a show focused on everything in fantasy books.
From Epic Fantasy, to Urban Fantasy, to Sword and Sorcery, and everything in between, expect to find the best and brightest authors from all the various corners of the fantasy book world. Plus we'll add in a few other very special guests as well along the way.
To kick off this week's episode, let me tell you what I've been up to. I'm still working on Huntress Adept, book 5 of my Huntress Clan Saga. Quinn, the main character, is in some deep trouble with wild magic in this story and it's allowing me to explore some quirky additions to my story world.
If you haven't picked up the first four books in the series, now's the time to do that. Check out the entire series over on Amazon starting with Huntress Initiate, the first book in the Huntress Clan Saga.
You can check out more information on what I'm up to, including sneak peeks of upcoming covers, special giveaways, and more, by visiting my fan group on Facebook, Jamie's Fun Fantasy Readers and over at my website and blog, JamieDavisBooks.com. I look forward to hearing from you.
Okay, time to delve into this week's featured author. I'm so excited to have my good friend, E.G. Bateman on the show today. Elaine began writing her first book, Fade, in 2014. She put it aside several times before finishing it in 2017. Books two and three of the Faders series followed in 2018 and 2019 with more to come in the future.
She most recently teamed up with prolific story-teller Michael Anderle on the the brand new project Legacy of the Shadow's Blood book 1. It is a ripping tale of Urban Fantasy that I think you won't be able to put down.
​
Elaine lives in England with her husband, son and dogs. She likes the idea of going to the gym but prefers eating chocolate and binge-watching TV shows. Here's my chat with Elaine a.k.a. E.G. Bateman.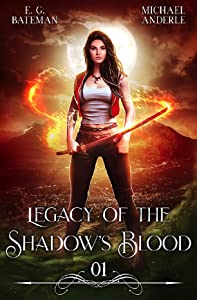 Podcast: Play in new window | Download