This is the Books and Authors Fantasy Podcast Episode 113 with Katie Cherry.
Good day and welcome to this episode of the Books and Authors Fantasy Podcast. I'm your host, podcaster and author of Fun Fantasy Reads, Jamie Davis. This podcast is exactly what the title says it is, a show focused on everything in fantasy books.
This show will cover everything to do with fantasy books. From Epic Fantasy, Urban Fantasy, Sword and Sorcery, and everything in between, expect to find the best and brightest authors from all the various corners of the fantasy book world. Plus we'll add in a few other very special guests as well along the way.
Kicking off things this week, I'll start with my author update. I started writing Huntress Defender today, book 6 in the Huntress Clan Saga. I've really enjoyed writing about Quinn Faust and her adventures in these stories. Book 5, Huntress Adept, is due out in about a month and I can't wait to get it into your hands. you will like it, too.
In the meantime, check out Huntress Initiate, the first book in the Huntress Clan Saga.
If you're interested in more information on what I'm up to, check out my fan group on Facebook, Jamie's Fun Fantasy Readers and on my website and blog, JamieDavisBooks.com.
On today's show I interview, author Katie Cherry who returns to our show to talk about the release of the first three books in her Crystal Dragon Saga in Omnibus boxed set form. We chat about dragons in fantasy, creating compelling magic systems, and a lot more. Check it out.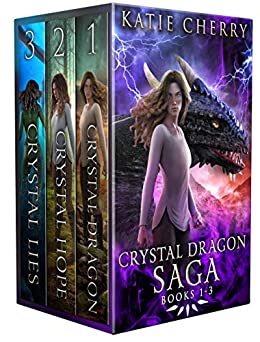 Podcast: Play in new window | Download