This is the Books and Authors Fantasy Podcast Episode 114 with Kelly Blanchard.
Good day and welcome to this episode of the Books and Authors Fantasy Podcast. I'm your host, podcaster and author of Fun Fantasy Reads, Jamie Davis. This podcast is exactly what the title says it is, a show focused on everything in fantasy books.
This show will cover everything to do with fantasy books. From Epic Fantasy, Urban Fantasy, Sword and Sorcery, and everything in between, expect to find the best and brightest authors from all the various corners of the fantasy book world. Plus we'll add in a few other very special guests as well along the way.
Starting off with my update. Huntress Cadet, Book 5 is in to the editor. It is scheduled for release on July 8th and I'm excited to get it out and into your hands. I've already started plotting out the next in that series, Huntress Defender. There are a lot of threads in the earlier stories to tie up there and I'm looking forward into digging into writing the story starting next week.
In the meantime, check out Huntress Initiate, the first book in the Huntress Clan Saga.
If you're interested in more information on what I'm up to, check out my fan group on Facebook, Jamie's Fun Fantasy Readers and on my website and blog, JamieDavisBooks.com.
In this episode I get to chat with author, Kelly Blanchard again. Kelly recently released the first three books in her Chronicles of Lorek series as a boxed set as she moves to write with the team at Fallbrandt Press.
Check out this episode where we talk about her books and what she has planned next.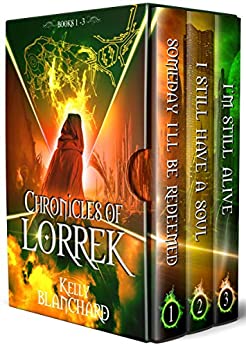 Podcast: Play in new window | Download