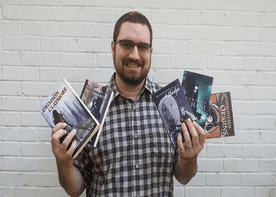 This is the Books and Authors Fantasy Podcast Episode 124 with Craig A. Price .
Good day and welcome to this episode of the Books and Authors Fantasy Podcast. I'm your host, podcaster and author of Fun Fantasy Reads, Jamie Davis. This podcast is exactly what the title says it is, a show focused on everything in fantasy books.
This show will cover everything to do with fantasy books. From Epic Fantasy, Urban Fantasy, Sword and Sorcery, and everything in between, expect to find the best and brightest authors from all the various corners of the fantasy book world. Plus we'll add in a few other very special guests as well along the way.
Kicking off things this week, I'm just about finished with the first draft of the Paramedic's Amazon, book 8 in the Extreme Medical Services Series. It's just about ready for me to go through and start my initial pass at editing. I'm excited to revisit this series after not writing in it for over a year. I think the readers are going to enjoy the story I've discovered lurking in the back of my mind.
If you haven't read the rest of the Extreme Medical Services series, you can find it wherever you get your books, ebooks, or audiobooks.
Stay tuned for more updates at my facebook group, including sneak peeks of upcoming covers, special giveaways, and more. Just look up on Facebook, Jamie's Fun Fantasy Readers. And don't forget to catch up with me over at my website and blog, JamieDavisBooks.com. I look forward to hearing from you.
Let's go ahead with today's interview. Craig A. Price Jr. lives on the Alabama Gulf Coast with his beautiful wife and two sons. He is a USA Today Bestselling author and works full time as a Pipe Planner at a shipyard.
He has finished over a dozen novels and has seen a lot of success on Wattpad, where his novel, The Crimson Claymore, has seen over two and a half million reads and was a featured book for several years. During his free time, he enjoys reading, writing, playing games, listening to jazz and classical music on his Record Player, and smoking his long stem pipe.
Check out my interview with Craig as we talk about his Dragonia Empire series.
Podcast: Play in new window | Download