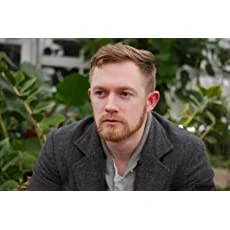 This is the Books and Authors Fantasy Podcast Episode 132 with Michael Chatfield.
Good day and welcome to this episode of the Books and Authors Fantasy and Sci-Fi Podcast. I'm your host, podcaster and author of Fun Fantasy Reads, Jamie Davis. This podcast is exactly what the title says it is, a show focused on everything in fantasy books.
This show will cover everything to do with fantasy books. From Epic Fantasy, Urban Fantasy, Sword and Sorcery, and everything in between, expect to find the best and brightest authors from all the various corners of the fantasy book world. Plus we'll add in a few other very special guests as well along the way.
Kicking off things this week, I'm still working on the editing process for The Paramedic's Amazon, book 8 in the Extreme Medical Services Series. As that process continues so that it's ready to send to the Editors and Proof readers, I'm also celebrating the release of the final book in the Huntress Clan Saga, Huntress Defender.
Watch for that and the whole completed Huntress Clan Saga series on Amazon.com and in the Kindle Unlimited program.
I'm also beginning the plotting stages of my next project which is a trilogy picking up where I left off with my Accidental Champion series. Yes, I'm starting on another book about Hal, Cari, and Mona Dix and their family adventures in Fantasma. Check out the first six books in that series over at my site, JamieDavisBooks.com.
Stay tuned for more updates at my facebook group, including sneak peeks of upcoming covers, special giveaways, and more. Just look up on Facebook, Jamie's Fun Fantasy Readers. And don't forget to catch up with me over at my website and blog, JamieDavisBooks.com. I look forward to hearing from you.
Michael Chatfield joins us today on the show. A Brit living in Canada, Michael writes in the science fiction, fantasy, LitRPG and cultivation genres. At this time he is working on the Ten realms Series while he is the author of the complete; Death Knight Free Fleet, Harmony War, Maraukian War and Emerilia Series.
He likes books, ALOT. Michael's books create vast tested universes filled with characters that feel alive and have a depth to them that drags you into his stories.
Here's my interview with Michael. We talk about his new project, the Listener's Newsletter for audiobook listeners. We also talk about his next book in the Ten Realms series.
Podcast: Play in new window | Download