This is the Books and Authors Fantasy Podcast Episode 178 with author Gemma Clatworthy
Good day and welcome to this episode of the Books and Authors Fantasy and Sci-Fi Podcast. I'm your host, podcaster and author of Fun Fantasy Reads, Jamie Davis. This podcast is exactly what the title says it is, a show focused on everything in fantasy books.
This show will cover everything to do with fantasy books. From Epic Fantasy, Urban Fantasy, Sword and Sorcery, and everything in between, expect to find the best and brightest authors from all the various corners of the fantasy book world. Plus we'll add in a few other very special guests as well along the way.
For my author update, I'm getting ready to start up a brand new project right now that will take me out through the rest of this year. It's a unique twist on typical urban fantasy that I think folks will really enjoy. Stay tuned for more updates.
You can check out more information on what I'm up to, including sneak peeks of upcoming covers, special giveaways, and more, by visiting my fan group on Facebook, Jamie's Fun Fantasy Readers and over at my website and blog, JamieDavisBooks.com. I look forward to hearing from you.
This week on the show I interview author Gemma Clatworthy. Gemma loves writing and started publishing her stories during the 2020 Coronavirus lockdown. As well as her debut urban fantasy series, Rise of Dragons, she writes children's books and has a craft blog.
She lives with her family and their two cats in Wiltshire, UK. In her spare time, Gemma enjoys crafts of all kinds and playing board games.
Gemma is also one of the amazing authors (myself included) appearing in the upcoming Urban Fantasy short story anthology, Summer Solstice Shenanigans anthology.
Here's my chat with Gemma.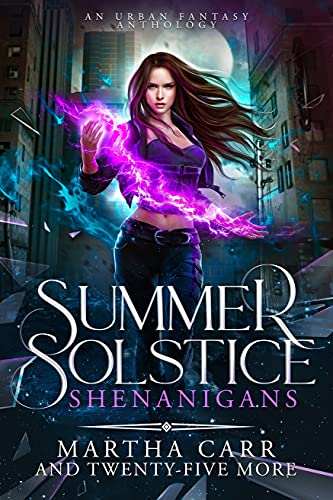 Podcast: Play in new window | Download