Good day and welcome to this episode of the Fantasy Focus podcast. I'm your host, podcaster and author of Fun Fantasy Reads, Jamie Davis. This podcast is exactly what the title says it is, a show focused on everything in fantasy books.
From Epic Fantasy, Urban Fantasy, Sword and Sorcery, and everything in between, expect to find the best and brightest authors from all the various corners of the fantasy book world. Plus we'll add in a few other very special guests as well along the way.
I'm super excited this week as I ramp up for the launch of my latest book, Cyber's Change. If you like a touch of cyberpunk sci-fi along with a dystopian world, you will want to take advantage of the 99¢ preorder available until launch.
I'm also digging back into that new urban fantasy project I mentioned a few weeks ago back in March. I don't know about you all, but I've got a giant case of spring fever and I'm looking forward to better weather and the opportunity to do some of my writing outside where I can enjoy my yard and view of the woods. Maybe I'll share a pic of my digs over on my facebook page and group soon.

As always, if you're interested in more information on what I'm up to, check out my fan group on Facebook, Jamie's Fun Fantasy Readers and on my website and blog, JamieDavisBooks.com.
I don't know about you but I'm ready to get into this week's episode interview with author Richard Nell. Richard is a Canadian author of fantasy, living in one of the flattest, coldest places on earth with his begrudging wife, who makes sure he eats.
He's been a dishwasher, brick-layer, bin-sweeper, floor-waxer, factory-worker, government employee, and managed a few teams in what he refers to as the bloody insurance business. What else do you need to know? Well, he has one eye, a few useless English degrees, enjoys history and video-games and learning of all kinds, because what he really loves are ideas.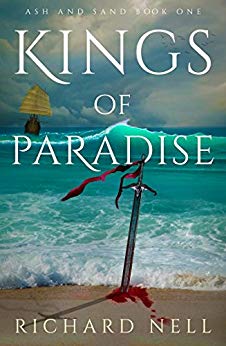 His debut novel, Kings of Paradise, is the first of a dark, epic fantasy trilogy. It's officially a Canadian Amazon bestseller, and available now on Amazon as an ebook, paperback, or audiobook. The second book in the series (Kings of Ash) was released as an ebook in January 2019.
I had a great time on this one. Check out my interview with Richard coming right up.
Podcast: Play in new window | Download