Good day and welcome to this episode of the Fantasy Focus podcast. I'm your host, podcaster and author of Fun Fantasy Reads, Jamie Davis. This podcast is exactly what the title says it is, a show focused on everything in fantasy books.
From Epic Fantasy, Urban Fantasy, Sword and Sorcery, and everything in between, expect to find the best and brightest authors from all the various corners of the fantasy book world. Plus we'll add in a few other very special guests as well along the way.
Today, I'm pumped up because my new book, Cyber's Change hits the online book stores today. I've put a lot of work into helping get this book out there and there are a lot of reasons it's an important project for me, not the least of which has to do with writing it for my youngest daughter and her fiancé. Head out and check out Cyber's Change in ebook, paperback, and audiobook formats wherever you get your books online. I think it's one of my best stories yet.

As always, if you're interested in more information on what I'm up to, check out my fan group on Facebook, Jamie's Fun Fantasy Readersand on my website and blog, JamieDavisBooks.com.
Okay, time to introduce our podcast guest for today's episode. I'm excited to say we have Andy Peloquin on the show. Andy is first and foremost, a storyteller and an artist–words are his palette. Fantasy is his genre of choice, and he says he loves to explore the darker side of human nature through the filter of fantasy heroes, villains, and everything in between. He's also a freelance writer, a book lover, and a guy who says he just loves to meet new people and spend hours talking about his fascination for the worlds he encounters in the pages of fantasy novels.
Andy writes in his own version of this intro: "Fantasy provides us with an escape, a way to forget about our mundane problems and step into worlds where anything is possible. It transcends age, gender, religion, race, or lifestyle–it is our way of believing what cannot be, delving into the unknowable, and discovering hidden truths about ourselves and our world in a brand new way. Fiction at its very best!"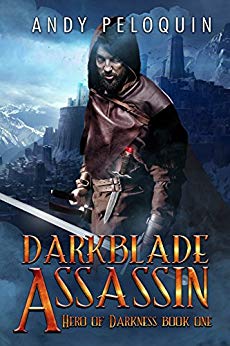 Check out Andy's book Darkblade Assassin and don't forget to follow him on his Facebook page for updates and info.
I couldn't agree more. Check out my chat with Andy coming right up..
Podcast: Play in new window | Download