Good day and welcome to this episode of the Fantasy Focus podcast. I'm your host, podcaster and author of Fun Fantasy Reads, Jamie Davis. This podcast is exactly what the title says it is, a show focused on everything in fantasy books.
From Epic Fantasy, Urban Fantasy, Sword and Sorcery, and everything in between, expect to find the best and brightest authors from all the various corners of the fantasy book world. Plus we'll add in a few other very special guests as well along the way.
I'm trying to wrap up my first draft of the current urban fantasy project. For some of you this might signal that I'm done but nothing could be farther from the truth. Now the real work begins as I start digging into the rewrites necessary to pull the story into the kind of shape and flow needed to make it a finished book.
It's kind of like one of those people who take a skull and build a face on top of it to show what a person might have looked like in real life. In this case, I've got the meat and bones of the story there, now's the time to put the flesh on top of it along with coloring, facial hair, warts and all the things that'll bring it to life in a reader's mind, at least hopefully. I'll try and include some snippets and updates on my Facebook page and group in the coming weeks as I get closer to being finished.

Also, head over and check out my latest book, Cyber's Change in ebook, paperback, and audiobook formats wherever you get your books online. I think it's one of my best stories yet.

As always, if you're interested in more information on what I'm up to, check out my fan group on Facebook, Jamie's Fun Fantasy Readers and on my website and blog, JamieDavisBooks.com.

Let's shift gears and talk about our special guests for this episode. Doug Burbey and Mel Todd are two authors who decided to collaborate together on a great project that if dark and fanatical all at once.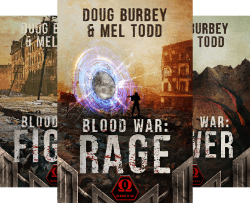 Mel has 17 stories out, her Kaylid Chronicles, the Blood War series (written with Doug), and more to come. She's the Owner of Bad Ash Publishing, where she is creating a book empire full of good stories and good authors. With over a million words published, she's aiming for another million in the next two years. All of them are parts of stories that will grab you and make you hunger for more.
Doug Burbey, the co-author of the Blood War urban fantasy series, is constantly preparing to: repel the demon hordes, slay zombies, brew beer and defeat the insidious plots of the bureaucratic machinery. Doug grew up in Asia as a military brat, went to college in Michigan and became a Detroit Lions fan in the Barry Sanders era of NFL greatness. He then served in numerous Army positions and wars around the world before recently retiring. Doug's now is a military technology development program manager by day and demon slayer by night. With muddy boots and a cold beer in hand, he spends his spring/summer weekends as a gentleman farmer tending to his hops vines and apple orchard.

Check out my chat with Mel and Doug about their books and what it's like sharing a story when writing with another author. Here it is.
Podcast: Play in new window | Download