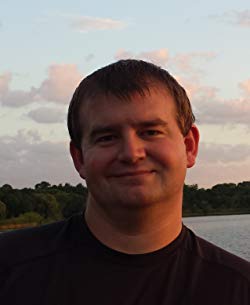 Good day and welcome to this episode of the Books and Authors Fantasy Podcast. I'm your host, podcaster and author of Fun Fantasy Reads, Jamie Davis. This podcast is exactly what the title says it is, a show focused on everything in fantasy books.

This show will cover everything to do with fantasy books. From Epic Fantasy, Urban Fantasy, Sword and Sorcery, and everything in between, expect to find the best and brightest authors from all the various corners of the fantasy book world. Plus we'll add in a few other very special guests as well along the way.
I'm really excited today as I continue my trip to Chicago for my writing retreat and conference. Tonight I'm going out to dinner with three of the amazing narrators who've brought many of my books to life as audiobooks.
Stacy Gonzalez worked on my Accidental Champion series and is currently in production with my Broken Throne series. Roberto Scarlato has done both my Extreme Medical Services series and my Accidental Traveler series. Sarah Gise narrated my latest book Cyber's Change, a dystopian sci-fi novel and is working on book 2 in that series, Cyber's Escape, due to be released on June 28. It'll be great to meet them all in person.

As always, if you're interested in more information on what I'm up to, check out my fan group on Facebook, Jamie's Fun Fantasy Readers and on my website and blog, JamieDavisBooks.com.
Alright, let's get into our interview with this week's guest. Ryan Kirk is the author of the bestselling Nightblade series of fantasy novels. He is also the founder and CEO of Waterstone Media. He's been writing full-time since 2015. When he isn't writing, he can usually be found outdoors, hiking through the woods, or playing a round of disc golf at one of his many local courses. He's also a good friend of mine and pretty great guy who writes awesome books.
Don't just take my word for it. Here's my interview with Ryan so you can decide for yourselves.

Podcast: Play in new window | Download