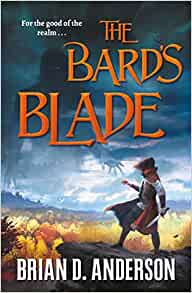 This is the Books and Authors Fantasy Podcast Episode 85 with Brian D. Anderson.
Good day and welcome to this episode of the Books and Authors Fantasy Podcast. I'm your host, podcaster and author of Fun Fantasy Reads, Jamie Davis. This podcast is exactly what the title says it is, a show focused on everything in fantasy books.
This show will cover everything to do with fantasy books. From Epic Fantasy, Urban Fantasy, Sword and Sorcery, and everything in between, expect to find the best and brightest authors from all the various corners of the fantasy book world. Plus we'll add in a few other very special guests as well along the way.
As always, I kick off this week's episode with my author update. I just released book 2 in the Huntress Clan Saga. Huntress Apprentice carries on the story of Quinn Faust, absolutely one of my favorite characters ever. You'll definitely want to check this series out. Huntress Initiate, the first book in the Huntress Clan Saga is here in case you haven't picked it up yet.
I've finished the first draft of Huntress Cadet, book 3 in the series and I can't wait for you all to read what's next for Quinn and her band of supernatural heroes. I should have that out around the end of February once I'm finished editing it.
You can check out more information on what I'm up to, including sneak peeks of upcoming covers, special giveaways, and more, by visiting my fan group on Facebook, Jamie's Fun Fantasy Readers and over at my website and blog, JamieDavisBooks.com. I look forward to hearing from you.
On today's show I interview, Brian D. Anderson. You might remember I had Brian on the show before about seven months ago where he teased an upcoming project that he couldn't say much about. Well, that project,The Bard's Blade, comes out next week.
If you didn't check out the original episode with Brian about his other books, you should check it out. Brian is the indie-bestselling fantasy author of The Godling Chronicles, Dragonvein, and Akiri (with co-author Steven Savile) series. His books have sold more than 500,000 copies worldwide and his audiobooks are perennially popular. Currently, he lives in the sleepy southern town of Fairhope, Alabama with his wife and son, who both inspire him daily.
Here's my chat with Brian. Check it out and check out Brian's book The Bard's Blade, too.
Podcast: Play in new window | Download