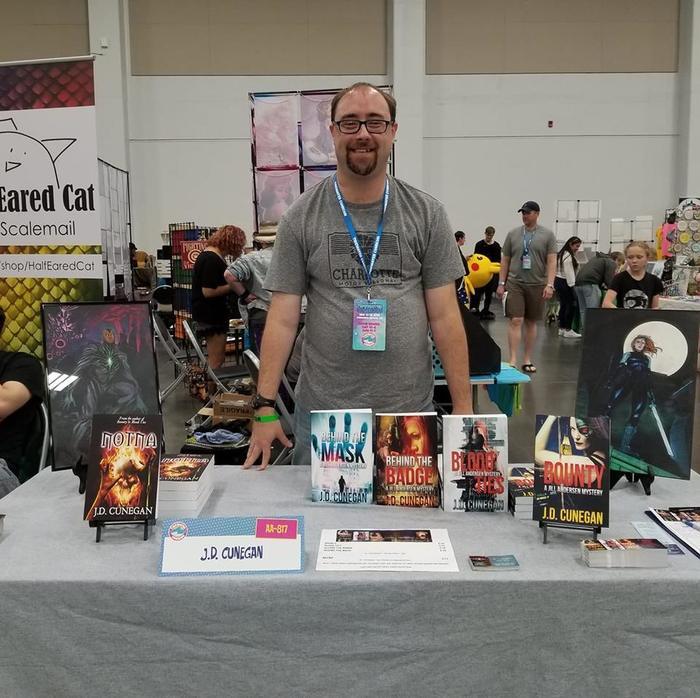 This is the Books and Authors Fantasy Podcast Episode 123 with JD Cunegan .
Good day and welcome to this episode of the Books and Authors Fantasy Podcast. I'm your host, podcaster and author of Fun Fantasy Reads, Jamie Davis. This podcast is exactly what the title says it is, a show focused on everything in fantasy books.
This show will cover everything to do with fantasy books. From Epic Fantasy, Urban Fantasy, Sword and Sorcery, and everything in between, expect to find the best and brightest authors from all the various corners of the fantasy book world. Plus we'll add in a few other very special guests as well along the way.
Kicking off things this week, I'm still plugging away at book 8 in the Extreme Medical Services Series, The Paramedic's Amazon. I hope to wrap up the first draft in the next week or so. I want to get it into my editor's hands as soon as possible. It's slated for release this fall.
If you haven't read the rest of the Extreme Medical Services series, you can find it wherever you get your books, ebooks, or audiobooks.
Stay tuned for more updates at my facebook group, including sneak peeks of upcoming covers, special giveaways, and more. Just look up on Facebook, Jamie's Fun Fantasy Readers. And don't forget to catch up with me over at my website and blog, JamieDavisBooks.com. I look forward to hearing from you.
Let's go ahead with today's interview. J.D. Cunegan is known for his unique writing style, a mixture of murder mystery and superhero epic that introduces the reader to his comic book-inspired storytelling and fast-paced prose. A 2006 graduate of Old Dominion University, Cunegan has an extensive background in journalism, a lengthy career in media relations, and a lifelong love for writing.
Cunegan lives in Hampton, Virginia, and next to books and art, his big passion in life in auto racing. When not hunched in front of a keyboard, scratching a pencil over a piece of paper, or with his nose stuck in a book, Cunegan can probably be found at a race track or watching a race on TV.
Check out my chat with J.D. as we chat about his NOTNA book.
Podcast: Play in new window | Download