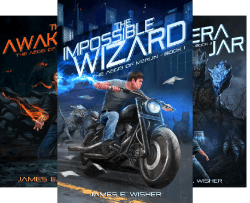 Good day and welcome to this episode of the Books and Authors Fantasy Podcast. I'm your host, podcaster and author of Fun Fantasy Reads, Jamie Davis. This podcast is exactly what the title says it is, a show focused on everything in fantasy books.

This show will cover everything to do with fantasy books. From Epic Fantasy, Urban Fantasy, Sword and Sorcery, and everything in between, expect to find the best and brightest authors from all the various corners of the fantasy book world. Plus we'll add in a few other very special guests as well along the way.
I'm right in the middle of the first draft for Cyber's Underground right now. I also have more travel coming up soon so I'm trying to get the book done before I have to devote my energy to other endeavors for the week. Sometimes writing is as much about keeping your writing schedule and expectations on track as it is about actually putting words down for your book.
As a full-time author, I have to treat this like any other job and that means putting in the work and effort needed to put out good books for readers like you. It's fun and I love it for the most part, but it is hard work, at least for the brain, in its own way.
If you haven't picked up book 1, Cyber's Change, a dystopian sci-fi novel, you should check it out.

As always, if you're interested in more information on what I'm up to, check out my fan group on Facebook, Jamie's Fun Fantasy Readers and on my website and blog, JamieDavisBooks.com.
Let's shift gears and talk about our special guest for this episode. James Wisher been writing since high school though he only started publishing in 2015 thanks to a book titled Write, Publish, Repeat by the guys who do the StoryShop podcast. He's made all the publishing mistakes you can name, bad covers, bad editing, no marketing. He's cleaned that up now, but it goes to show you can recover from a less than perfect start.
We chat about his books including The Aegis of Merlin. It's about a young man who learns he's a wizard even though the entire world believes it's impossible for men to do magic.
Check out my chat with James right now.

Podcast: Play in new window | Download